CIMMS: Success for Hamburg's materials scientists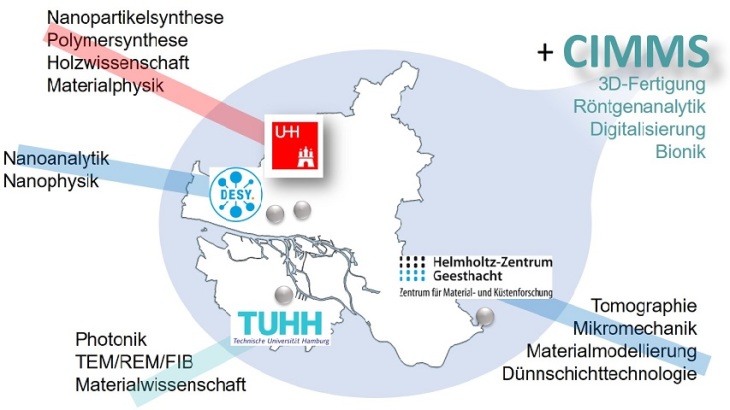 Distribution of existing and, through the planned CIMMS, additional materials science competencies in the Hamburg metropolitan region.
The Ministry of Science, Research and Equalities (BWFG) is funding the interdisciplinary initiative "Center for Integrated Multiscale Materials Systems" (CIMMS) of the Center for Advanced Materials (ZHM) with almost 4 million euros over a total of four years. Researchers from the Hamburg University of Technology (TUHH, applicant university), the University of Hamburg (UHH), the Deutsches Elektronen-Synchrotron (DESY) and the Helmholtz-Zentrum Geesthacht (HZG) are working together on the project. The aim is to strengthen the cooperation of materials scientists across the borders of the research institutions in order to achieve innovative research results. With this funding, the science authority is implementing a recommendation of the MINT Research Council, which identified materials science as one of Hamburg's future clusters in its 2018 report.

Prof. Ed Brinksma, President of the TUHH: "A great success for the TUHH and its partners HZG, DESY and the University of Hamburg. The regional networking of excellent partner organizations has led to a research approach - CIMMS - that is unique in Germany. Hamburg is on the right track to align the expertise of its science organisations with innovative research objectives. I congratulate all the scientists involved on the funding. It is a further building block in the expansion of the science location and a great incentive for research in Hamburg".

Prof. Dr. Dr. h.c. Dieter Lenzen, President of the University of Hamburg: "We are pleased that the BWFG has recognized the continued efforts of the academic institutions in the metropolitan region to work closely together with this funding and look forward to working together".

Prof. Helmut Dosch, Chairman of the DESY Directorate: "Our future will be shaped by innovative, functional high-performance materials. The bundling of the competencies of four strong institutions in materials research offers ideal research and development conditions in Hamburg".

How can principles of nature be used to produce materials with integrated and location-dependent functionalities? In the future, CIMMS researchers will address this overarching question with the help of experimental and computer-based tools. The scientific basis of the CIMMS is provided by the Collaborative Research Centre 986 "Tailored Multiscale Material Systems - M3" at the TUHH, in which nanoscale, ordered or disordered structures of ceramic, metallic and organic building blocks can be synthesized, arranged and characterized on a multiscale scale.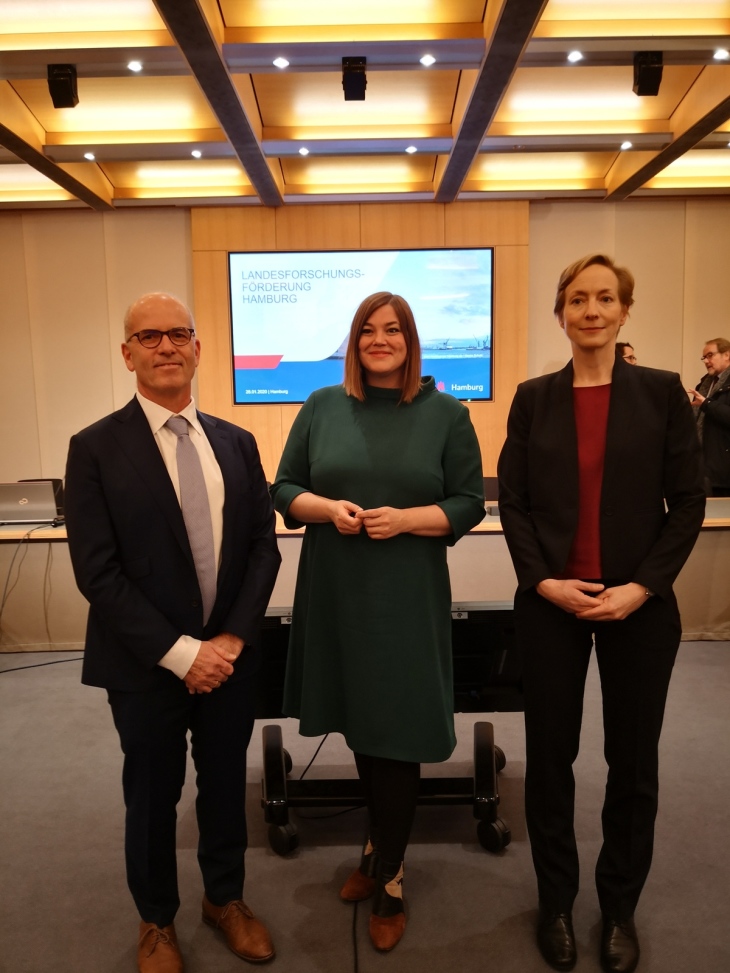 From left to right: TUHH Professor Gerold Schneider, Science Senator Katharina Fegebank and Prof. Dr. Ursula Schröder from the University of Hamburg. Photo: TUHH/Schmied
The goal of the CIMMS is the production of a novel material base using 3D printing to develop more cost-effective and durable products with novel functions. These so-called three-dimensional, multi-scale, multifunctional, hybrid and integrated material systems are fundamentally different from existing materials. Similar to natural, biological materials, these material systems can contain better and more diverse properties, thus broadening their range of applications. These improved material properties allow new technological developments, for example in the fields of energy, mobility, medicine and health, and also promise greater sustainability. The CIMMS creates the conditions for a promising materials science proposal in the next call of the Federal Excellence Strategy.

The CIMMS is designed to give future materials science research a clear direction and to support ongoing projects. The grant will enable the development of expertise that has been lacking until now. For example, new professorships will be created at the four participating institutions in the fields of

• 3D manufacturing of hybrid, multi-scale structures - from nanoparticles to components (TUHH),
• high-resolution X-ray analysis of materials (TUHH/DESY),
• Digitization and Virtualization of Material Development (TUHH/HZG) and
• Bionics based on lignocellulose (UHH).

Prof. Gerold Schneider, Director of the ZHM and designated spokesperson of the CIMMS: "The many years of successful and close cooperation in the SFB 986 and the ZHM have made the convincing concept for the CIMMS possible in the first place. Our goal is to integrate and bundle the materials science competencies distributed in Hamburg in the CIMMS and let them mature into excellence. The resulting scientific excellence should further strengthen Hamburg as a science location.

Center for Advanced Materials (ZHM)
The TUHH and the HZG founded the ZHM in 2015. As a North German centre for materials science and materials engineering, it has set itself the goal of initiating projects and cooperation in the field of basic research at a top international level and supporting their implementation through the ZHM Coordination Office. The SFB 986 and now also the CIMMS are prominent examples of the ZHM's success. In cooperation with industry, the ZHM also supports the transfer of knowledge from basic research to applications and is involved in the training of young scientists. To this end, a joint graduate school for materials science was established in 2016. The ZHM is the central contact for questions concerning materials science in Hamburg.

Further information at:
ZHM: https://zhm-nord.de/index.php.en
SFB 986: https://www.tuhh.de/alt/sfb986/home.html

Translated from German

Press contact
Franziska Schmied
Presse- und Öffentlichkeitsarbeit
Technische Universität Hamburg (TUHH)
Am Schwarzenberg-Campus 1
21073 Hamburg
Tel + 49 40 428 78 3458
E-Mail: franziska.schmied@tuhh.de
www.tuhh.de